Multi Location Planning
GRiD allows for the management of inventory and related activities between organization hubs, in addition to information filtering so that each business unit or entity only sees what is relevant to them. GRiD handles multiple business locations and seamlessly partitions inventory and related transactions between them.
Assign users to regions
User sessions default to assigned region

Location-specific organization addresses, logos, and websites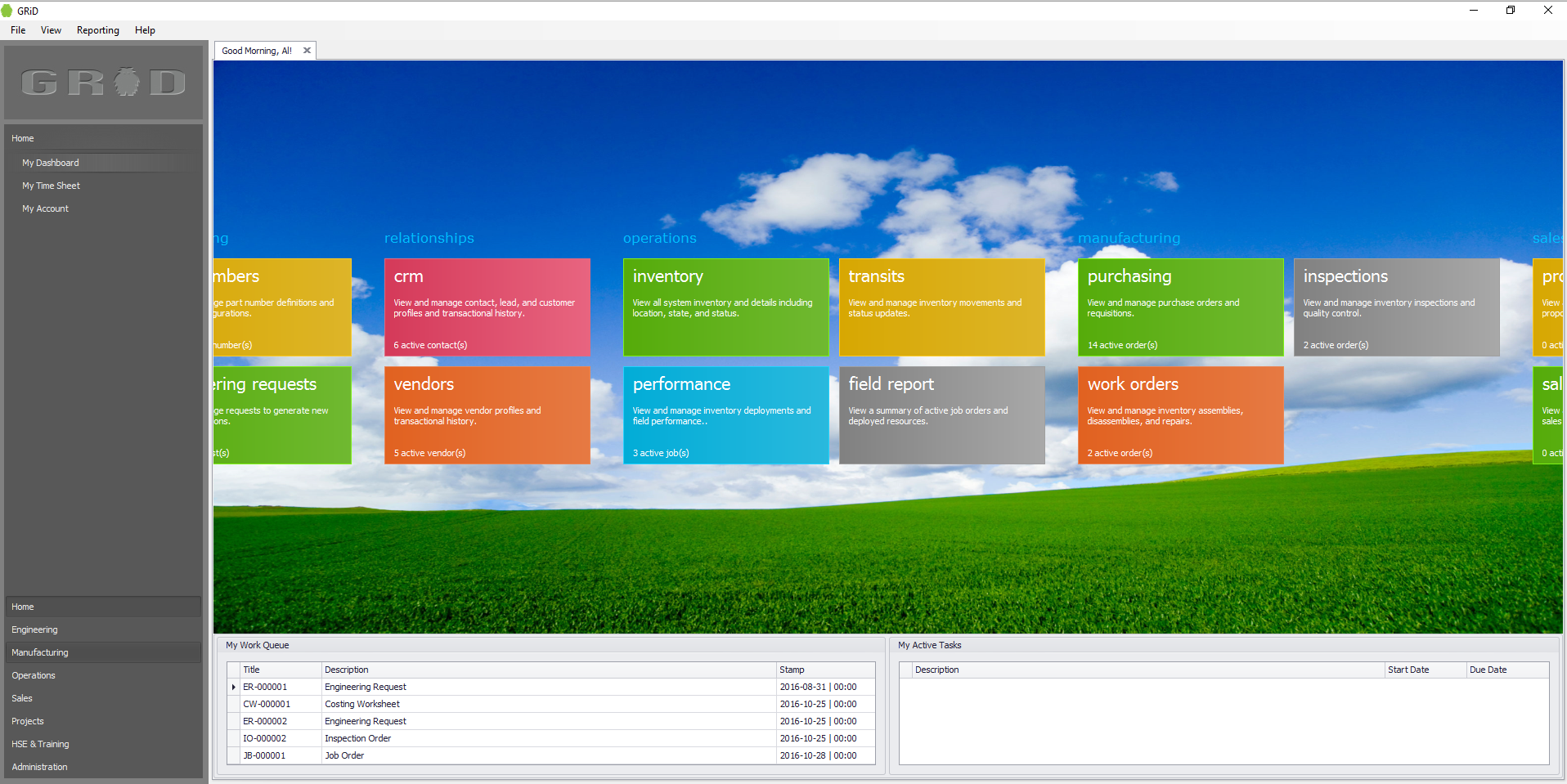 ---
Roles & Group Security Assignment
GRiD implements flexible and versatile role and group-based security to allow for maximum control over what users have access to and their level of authority within the system. Client administrators manage groups, user profiles, security and entity permissions, in addition to the configuration of a variety of global settings and properties.
Role-based security (operator, manager, and administrator)

Group-based entity security

Simplified, configurable interface for operators

Client administrators configure global settings, workflows, rules, and security for their organization
---
Notifications
GRiD's powerful and flexible notifications engine works 24/7/365 to ensure that individuals stay on top of what is important to them, in real-time. Using subscriber lists, GRiD can send email notifications when an event has occurred or when a defined condition has been met.
Assign users and groups to various notifications

Real-time workflow notifications

Morning Coffee emails that automatically update managers and users on relevant topics and conditions including but not limited to: Active Job Summary, Upcoming Job Summary, Active Tripometer Alarms, Active Purchase Order Summary, Active Proposal Summary, Active Sales Order Summary, Active Work Order Summary, CRM Activities Summary, Expiring Project Tasks, Expiring Project Tasks (As Project Manager), and Expiring Projects

Accessible by any smart device

Works with any email system
---
Cloud Hosting (optional)
No need for expensive hardware or database software. Likewise, no IT support is required. Zero. Being hosted in the most secure and reliable cloud platforms, clients simply install GRiD software by way of a web link, and that's it. And since your data is hosted in the cloud, it is accessible by any of your GRiD users with an internet connection. This means that your global operations will be able to share necessary data and participate in workflows in real-time.
Cloud hosting option utilizes the Amazon Web Services platform (view service health dashboard)

Amazon automatically performs a full daily snapshot of your data and captures transaction logs at 5 minute intervals

Data restores or rollbacks can be performed

Clients have the option to host their database locally and files on a private FTP server
---
Additional Benefits
GRiD provides a diverse functionality and feature set. Following are additional items that may be of interest to your organization:
GRid is a web-installed Windows client application and runs on operating systems supported by Microsoft

Sixty second client installation

Microsoft SQL Server 2012 data platform

Encrypted data connection (SSL)

Strong user password requirement with lockout safeguard

Brandable application and reports

On-the-fly custom reports

Application updates are automatically installed as they become available

GRiD uses Microsoft's click-once deployment, and does not require administrator priviledges

Gantt entity relationship visuals and inventory life cycle timelines

Drag & drop email attachments

Quick and easy global search utility

Asyncronous data handling

Grid data exportable to Microsoft Excel®

Intuit™ QuickBooks integration

Auditable user session and notification logs

User-customizable layouts

Integrated training videos