Operator
A 9-5/8 inch GeoproHYDRA G3 tool was run as part of an integral string to land and cement casing in a challenging offshore well in South East Asia. The well required building to over 81 degrees for over 4000 feet and dropping to 65 degrees inclination and holding for over 2000 feet. Total open hole length was in excess of 7000 feet. String was successfully landed on depth with no reaming requirement and cementing the 9-5/8 inch casing went as planned.
New GEN2.2x drive mechanism to be tested in October 2019. The redesigned drive mechanism extends the capabilities of the GEN2X drive system but doubles the performance of the tool. New system includes a transducer mechanism that provides tool operating status and can be monitored using surface sensors placed on the standpipe
Senior Well Engineer - Completions
In a deepwater ERD well, a 5-1/2 inch intelligent completion string was successfully landed using a GeoproHYDRA 0550 G2 series. Water depth: > 3300 feet Objective: To land completion string without rotation and with minimal pumping.
GeoproHYDRA Engineering Team:
The new GeoproHYDRA nGX tool is now available to the market. It is the most powerful, robust and versatile high speed hydraulically actuated reamer shoe system available in the market today. The nGX tool is a fully customizable and scalable system for a wide range of applications. The reaming nose hard been redesigned as a 4 bladed profile with gage cutters. Primary PDC or TCI cutters are available on the steel nose housing. A wide range of cutting structure is available for use on the nGX ranging from crushed carbide to Shaped ballistic PDC cutters. The stabilized housing has been redesigned as a 3 bladed slant profile with offset placement. This provides a 270 degrees wrap around the circumference of the tool. The offset placement along the axis of the tool provides smaller hydraulic diameters when running in hole with the added advantage of better flow by area. The nGX has been redesigned for better efficiency and effectiveness.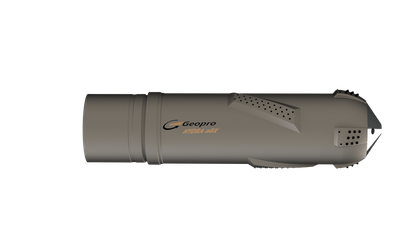 New GeoproHYDRA nGX-ND Tool now available. Features: 1. Non-drillable system; 2. Aggressive cutting profile; 3. LCM tolerant; 4. High speed capability; 5. Customizable; 6. Low flow activation; 7. Medium torque capability.